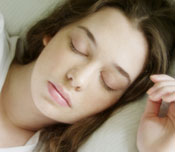 From the American Psychological Association website, here's a summary of their view of cognitive behavioral therapy (CBT) and insomnia.
Common misconceptions regarding sleep…
"I must get 8 hours of sleep every night."
"If I don't get a full 8 hours of sleep tonight a catastrophe will happen."
"My insomnia is completely caused by a biochemical imbalance."
How does CBT work?
CBT reduces false beliefs about sleep (the cognitive part).
CBT also addresses what to do when you are lying in bed and can't fall asleep (the behavioral part).
Dr. Charles Morin from Universit? Laval in Qu?bec has found that people who received CBT reduced their false beliefs, and this resulted in more time spent in bed actually sleeping.
11/21/06 20