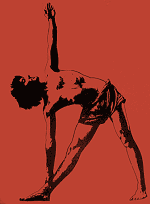 Yoga instructor Janette Scott wrote in Yoga Magazine, "Yoga has been shown to give many positive benefits to people with the disease for maintaining balance and harmony in their lives." She also knew, "there needs to be a lot of further research and verification of the effects and benefits of yoga for this condition."
Now, 10 years later, here's a study from the National Institute of Mental Health and NeuroSciences in Bangalore, India.
First, the details.
61 moderately ill schizophrenia patients were randomly assigned to yoga therapy or physical exercise therapy for 4 months.
The evaluator was unaware of their treatment.
And, the results as presented in an article on PsychiatrySource.com.
41 people of the original group were available at the end of 4 months for assessment.
Symptoms improved significantly in the yoga group, based on changes in PANSS (The Positive and Negative Syndrome Scale).
PANSS is a medical scale used to measure symptom reduction in schizophrenia patients.
Only patients in the yoga group had significant improvement in their quality of life scores compared to the beginning of the study.
The benefits were maintained after adjusting for age, gender, marital status, duration of illness, dose, and type of antipsychotic drugs used.
The bottom line?
How does yoga benefit these patients? Ms. Scott say, "Social isolation is a major factor affecting quality of life for many sufferers of this disease. A regular yoga group outside the home or boarding house establishes a social contact and focal point of regularity."
7/28/07 21:31 JR