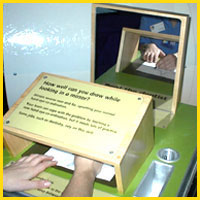 One of the complications of HIV infection is the loss of complex motor coordination. This can be evaluated using the mirror star-tracing task. There are variations on this test, but essentially the patient traces a star using the outline in a mirror.
Now, a study in 26 healthy people shows that one month of yoga was associated in fewer errors in a modification of the star-tracing task where the star was six pointed with the outline made up of 60 circles (4 mm in diameter).
The yoga group showed significant improvement in the number of circles crossed
Fewer circles left out for the right hand
More circles crossed with the left hand alone in the control group
The investigators concluded. "One month of yoga improved reversal ability, eye-hand co-ordination, speed, and accuracy — which are necessary for mirror star tracing."
I'm not aware of a study where yoga was used to improve these skills in people with HIV. But it might be worthwhile.
Photo: Your amazing brain
10/22/06 11:40 JR