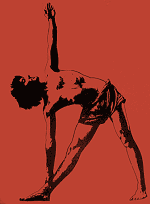 Depression and anxiety disorders are associated with low GABA (gamma-aminobutyric acid) levels, and these disorders have been successfully treated with pharmaceutical agents designed to increase GABA levels.
This study suggests that the practice of yoga should be explored as a treatment for disorders with low GABA levels.
First, the details.
8 yoga practitioners completed a 60-minute yoga session.
11 people in the comparison group completed a 60-minute reading session.
And, the results.
There was a 27% increase in GABA levels in the yoga practitioner group after the yoga session
No change in the comparison subject group after the reading session.
The difference was significant.
The bottom line?
The researchers from Harvard Medical School in Boston concluded, "These findings demonstrate that in experienced yoga practitioners, brain GABA levels increase after a session of yoga."
"The development of an inexpensive, widely available intervention such as yoga that has no side effects but is effective in alleviating the symptoms of disorders associated with low GABA levels has [a] clear public health advantage," added senior author Dr. Perry Renshaw.
5/31/07 21:53 JR