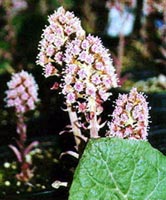 Professor Ernst and colleagues from Peninsula Medical School in the UK have reviewed the evidence.
Here's what they found.
16 studies of 10 different herbal products vs placebo or another active treatment were included.
Petasites hybridus (butterbur) extract was evaluated in 6 of these studies, and was superior to placebo or similarly effective compared to nonsedating antihistamines for intermittent allergic rhinitis.
The bottom line?
The authors concluded, "There is encouraging evidence suggesting that P. hybridus may be an effective herbal treatment for seasonal (intermittent) allergic rhinitis." They would like to see more studies by independent researchers.
There were also positive results with other herbal products, particularly Aller-7 (7 herbal extracts), Tinospora cordifolia (aka guduchi), Perilla frutescens (aka beefsteakplant), and several Chinese herbal medicines, although more studies are needed.
An earlier entry was also positive for butterbur.
1/9/08 20:01 JR