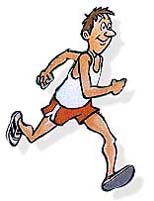 Following prolonged heavy endurance exercise, the immune system is suppressed for up to 12 hours. This has led to the concept of the "open window," when there's an increased risk of an upper respiratory tract infection.
Might probiotics lower this risk?
First, the details.
141 marathon runners were randomly assigned to take a probiotic (Lactobacillus rhamnosus GG) or placebo during 3 months of training.
Then, they ran a marathon and were monitored for 2 weeks.
Neither the runners nor the researchers knew which treatment was given (blinded).
And, the results.
The probiotic had no effect on the number of respiratory infections or episodes of gastrointestinal-symptoms.
However, the duration of GI-symptom episodes in the probiotic group was 3 vs. 4 days in the placebo group during training, and 1 vs. 2 days, respectively, during the 2 weeks after the marathon.
Both differences were statistically significant.
The bottom line?
The benefit is small regardless of the statistical significance. An informed decision by serious runners to take or not take probiotics should include safety considerations, which are summarized here.
An earlier study showed no effect of a probiotic (Lactobacillus) on the risk of allergy in marathon runners.
12/9/07 20:14 JR