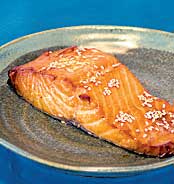 There's evidence — just not enough of it, yet.
Here's what we know.
Researchers from Wageningen University in The Netherlands reanalyzed the results (meta-analysis) from 14 studies of the effects of fish consumption or n-3 fatty acids on the incidence of colorectal cancer and 4 studies reporting colorectal cancer death.
And, the results taken from NutraIngredients.com.
The highest consumption of fish oil was associated with a 12% reduction in the incidence of colorectal cancer.
There was no change in mortality.
For each extra 100 grams of fish consumed per week the risk of colorectal cancer incidence was reduced by 3%.
The bottom line?
So far, so good. But the authors conclude, "Existing evidence [supports] that n-3 fatty acids inhibit colorectal carcinogenesis, … but few data are available addressing this association."
The answer? More research is needed!
12/16/07 19:25 JR