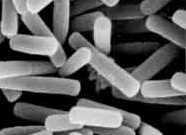 Although there is insufficient evidence to recommend probiotics routinely, Lactobacillus GG or Saccharomyces boulardii appear to be the most effective, according to this Cochrane review.
Here are the details.
10 studies of almost 2000 children from birth to 18 years old were reviewed.
Antibiotics were used to treat a medical condition along with probiotics to prevent antibiotic-associated diarrhea (AAD).
Children received 5 and 15 days of antibiotics by mouth.
Probiotics included Lactobacillus GG, Lactobacillus sporogenes, Streptococcus thermophilus and Saccharomyces boulardii.
And the results.
9 studies reported that probiotics reduced the incidence of AAD.
4 studies reported that probiotics shortened the average duration of diarrhea symptoms by about three-quarters of a day compared to active treatment or non active treatment.
No serious side effects.
The bottom line?
Unfortunately, the results based on the response of all the patients enrolled in all the studies (intention to treat) were not statistically significant. Perhaps more attention to dosing and probiotic selection in future studies will give better results.
4/23/07 11:33 JR