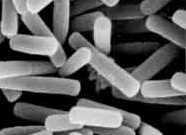 Maybe, based on these study results.
First, the details.
89 hospitalized patients were randomly assigned to receive lactobacilli-fermented milk or a placebo each day.
Patients and researchers were not aware of the treatment given (blinded).
And, the results.
Antibiotic-associated diarrhea occurred in significantly fewer of the lactobacilli-treated patients than the placebo group — 16% vs 36%.
The median hospital stay was not significantly different — 8 vs 10 days.
Overall, the lactobacilli-fermented milk was well tolerated.
The bottom line?
The authors concluded, "Daily administration of a lactobacilli-fermented milk was safe and effective in the prevention of antibiotic-associated diarrhea in hospitalized patients."
OK, but I think that more study in larger populations and evidence of an economic benefit will be needed to make this treatment routine.
12/27/07 14:50 JR