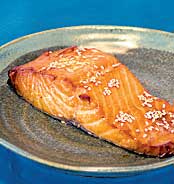 Dr. Michael Miller from the University of Maryland Medical Center in Baltimore presents the latest recommendations.
Here are the highlights from the article on Medscape.
To reduce the risk of sudden cardiac death in people with preexisting coronary heart disease, take the equivalent of 1 gram of active omega-3 compounds (eicosapentaenoic [EPA] and docosahexaenoic acids [DHA]) daily.
4-ounce serving of white albacore tuna
2 to 3 ounces of salmon (pink or red)
2 ounces of herring
2 to 3 ounces of sardines
At least 8 or more ounces of crab, shrimp, and lobster daily
To lower triglyceride at least 20% in people with hypertriglyceridemia, the amount of EPA/DHA required is considerably higher (2 to 4 grams daily) and difficult to accomplish by eating fish.
Prescription omega-3 is available. Also, quality control in the manufacture of OTC omega-3 appears to be improving.
12/27/07 20:21 JR