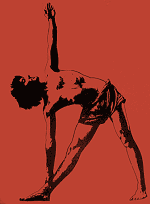 Does a typical yoga practice result in sufficient physical activity to improve and maintain cardiovascular fitness?
First, the details.
20 intermediate-to-advanced yoga practitioners performed an exercise routine inside a human respiratory chamber (indirect calorimeter) while wearing heart rate monitors.
The exercise routine consisted of 30 minutes of sitting, 56 minutes of beginner-level hatha yoga administered by video, and 10 minutes of treadmill walking at 3.2 and 4.8 kilometers per hour each.
And, the results.
Results from the respiratory chamber and heart monitors revealed low levels of physical activity during the yoga session.
It was similar to walking on a treadmill at 3.2 kilometers per hour.
The bottom line?
Yoga did not meet recommendations for levels of physical activity to improve or maintain health or cardiovascular fitness
However, the authors concluded that yoga practice incorporating sun salutation postures (shown here) exceeding 10 minutes might contribute sufficiently intense physical activity to improve cardio-respiratory fitness in unfit or sedentary individuals.
More about hatha yoga is discussed here.
12/3/07 20:29 JR