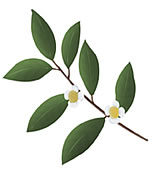 Researchers from the University of Florida at Gainesville report it's a safe and effective dietary supplement to reduce your risk of cold and flu symptoms.
And there's more.
First, the details.
Healthy adults were randomly assigned to take Camellia sinensis (green tea) capsules or a placebo twice a day for 3 months.
The volunteers kept a daily log of cold and flu symptoms including fever, runny nose, stuffy nose, sore throat, cough, headache, diarrhea, and nausea.
Neither the adults nor the researchers knew which treatment they were given.
And, the results.
Among subjects taking the green tea capsules?
32% fewer people with symptoms
23% fewer overall illnesses of at least 2 days duration
36% fewer days with symptom
These differences were significant compared to those taking placebo.
Also, gamma-delta T cells from those taking the green tea extract increased 28%.
And they secreted 26% more gamma interferon compared to the gamma-delta T cells from the volunteers taking placebo.
Again, significant differences.
The bottom line?
In addition to symptom control, this product might help gamma delta T cells generate a primary immune response to certain microorganisms.
Dr. Melissa McCarty from Bastyr University in Seattle, Washington says that in addition to all the other recommendations, "you might also consider drinking a lot of green tea — or supplementing with a green tea extract, such as the one used in this study."
12/5/07 20:47 JR