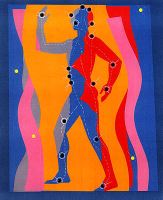 There are more than 475 million menopausal women in the world. And as if that's not scary enough, it can last 6 to 13 years and lead to side effects such as night sweats and hot flashes. Up to 75% of menopausal women experience some form of hot flashes.
A small study in England in 2003 found that acupuncture reduced the frequency and severity of hot flashes in 47 women treated with tamoxifen for breast cancer. The mean reduction in hot flashes was 42% at the end of 8 treatments, and 34% at 1-month following the last treatment.
But wait!
Research results presented during the 2006 meeting of the North American Research Conference on Complementary and Alternative Medicine in Edmonton, Alberta failed to support that earlier study. Dr. Ann Vincent, an assistant professor of medicine at the Mayo Clinic in Rochester, Minnesota described the findings as disappointing. The full study is scheduled for publication in the journal, Menopause later this year.
More recent info on this topic is here.
6/22/06 19:26 JR