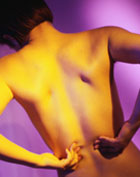 Neither treatment appreciably reduced the number of days until recovery according to this study by Australian researchers published in The Lancet.
However, a reader shares a different perspective.
First, the details.
240 patients with acute low back pain were given advice, paracetamol (acetaminophen), plus 1 of 4 treatments
Diclofenac (Voltaren) 50 mg twice daily and placebo manipulation
Spinal manipulation and placebo drug
Diclofenac 50 mg twice daily and spinal manipulation
Placebo drug and manipulation
And, the results.
There was no difference in number of days until recovery after 12 weeks of treatment.
22 patients had possible adverse reactions including gastrointestinal disturbances, dizziness, and heart palpitations.
Half of these patients took diclofenac, while the other half took placebo. One patient taking active diclofenac had a suspected hypersensitivity reaction and stopped treatment.
The bottom line?
Dr Bart Koes from Erasmus University Medical Centre in Rotterdam, Netherlands comments, "The limited or absent beneficial effect of diclofenac for acute low back pain after adequate first-line treatment may have wide implications. NSAIDs are widely prescribed for a range of acute musculoskeletal disorders,"
Furthermore, "The important message is that the management of acute low back pain in primary care (advice and prescription of paracetamol) is sufficient for most patients."
11/10/07 17:23 JR