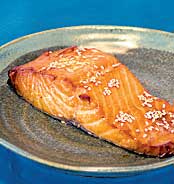 For the second time in less than two months, a study of pregnant women concludes that their babies do better if the women make sure they get enough omega-3 fatty acids during pregnancy.
In this case, "enough" is more than the 340 grams of seafood per week that's usually recommended.
This time they ate seafood rather than take supplements.
Almost 12,000 pregnant women completed a food frequency questionnaire to assess seafood consumption at 32 weeks into their pregnancy.
Then, developmental, behavioral, and cognitive outcomes of their children from age 6 months to 8 years were compared based on the mothers' consuming none, some (1 to 340 grams), or lots of (more than 340 grams) of seafood each week.
The children of mothers who didn't eat much seafood while they were pregnant had less than optimal scores on tests of social behavior, as well as fine motor, communication, and social development. The lower the intake of seafood during pregnancy, the higher the risk of suboptimum developmental outcome.
The bottom line?
The beneficial effects on child development when pregnant women eat more than 340 grams of seafood per week suggest that pregnant women should carefully consider their selection of seafood in order to maximize the omega-3 intake while minimizing exposure to contaminants.
Here's a brochure that will help, or go to the American Heart Association website. Remember, 12 ounces equals 360 grams of fish.
2/16/07 20:46 JR