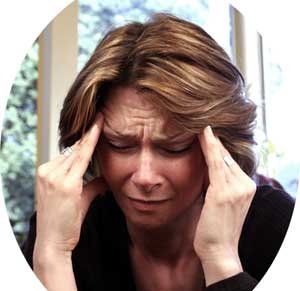 A review published in American Family Physician reveals that mind-body therapies, alone or in combination, significantly reduce symptoms of migraine, tension, and mixed-type headaches.
Here's the bottom line.
Migraine headache
Reanalysis of results (meta-analysis) from 35 studies of combined relaxation training and biofeedback show similar improvement compared 32 studies of beta blockers and 31 studies of calcium channel blockers.
A meta-analysis of 5 studies show that thermal biofeedback improves migraine symptoms 37%.
Tension headache
A meta-analysis of 35 studies of behavioral treatments show a 37% to 50% reduction of symptoms in treated patients compared to a 2% to 9% reduction in untreated patients.
Mixed-type and chronic headaches
A meta-analysis of 7 studies found that cognitive behavior therapy improves headache activity 49%.
The authors conclude, "Despite [the] evidence, mind-body therapies are an underused treatment,… possibly because of lack of training, insufficient time, or lack of awareness of the evidence base supporting these therapies."
11/20/07 21:41 JR