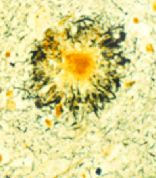 The most prominent neurochemical change in patients with Alzheimer's disease is a deficiency of choline acetyltransferase, the enzyme responsible for the synthesis of acetylcholine.
Polygalae radix is thought to be a useful component of kami-untan-to because it increases the activity of choline acetyltransferase. This study evaluated this Japanese herbal (kampo) medicine in people with Alzheimer's disease.
First, the details.
75 elderly people with senile dementia of the Alzheimer's type were treated with one of the following:
Kihito extract granules (a commercially available Japanese herbal medicine containing P. radix)
No treatment
Goshajinkigan (a kampo medicine that served as a placebo).
And, the results.
The group treated with kihito extract granules showed significant improvement in the Mini-Mental State Examination (MMSE).
The other groups showed no improvement.
No side effects were reported.
The bottom line?
MMSE measures of cognition (intellectual thought). And the FDA uses it as one of the criteria for approving drugs to treat Alzheimer's disease. The survey is shown here.
The results are useful because, in addition to being positive, they can be compared to FDA-approved drugs to treat Alzheimer's dementia.
10/15/07 21:48 JR