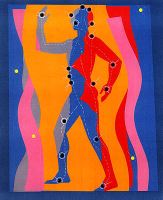 However, said Dr. Anna Enblom during her presentation to the attendees at the 14th European Cancer Conference, "Both groups [sham and real acupuncture] of patients reported that they believed the treatment had been invasive and effective in reducing nausea."
First, the details.
215 patients undergoing radiotherapy were studied.
Acupuncture was given 2 to 3 times per week during the period of radiotherapy.
Active acupuncture was compared to sham acupuncture (needles looked and felt identical, but retracted into the handle upon contact with the forearm).
And, the results show no significant difference between treatments.
68% of patients in the active group experienced nausea for an average of 19 days during radiotherapy vs 61% in the sham group for 17 days.
24% of patients in the active group vs 28% in the sham group reported vomiting.
In a small population of patients who also received chemotherapy, 82% in the active group and 80% in the sham group reported nausea.
No difference between groups in the number of days with nausea or vomiting or in the intensity of the nausea.
The bottom line?
In a Medscape report, Dr. Alexander Eggermont from Erasmus University in Rotterdam summed up the results. "This study illustrates how powerful the placebo effect can be" It also shows why it is essential to carry out controlled clinical trials — if it weren't for the sham arm in this study, we could have compared the results with historical controls and concluded that acupuncture halves the amount of nausea experienced with radiotherapy"
10/2/07 18:18 JR