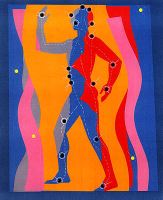 According to Acupuncture.com, "The ideal time to treat seasonal allergic rhinitis using acupuncture is at least one month before symptoms normally begin."
Here's a study where acupuncture helped ongoing rhinitis symptoms.
First, the details.
80 patients with persistent allergic rhinitis (PAR) were randomly assigned to real or sham acupuncture.
Participants were treated twice weekly for 8 weeks and followed up for another 12 weeks.
And, the results.
After 8 weeks' treatment, the weekly difference in total nasal symptom score was significant better with real vs sham acupuncture.
The decrease in individual symptom score was significantly greater with real acupuncture for rhinorrhea but not other symptoms.
At 12 weeks, the differences were maintained.
Moreover, the differences from baseline to 12 weeks in all four individual symptom scores (nasal obstruction, sneezing, rhinorrhea and nasal itch) were significantly greater for the real vs sham group.
The bottom line?
In 2006, a reanalysis of the data (meta-analysis) from other studies provided no clear evidence for the efficacy of acupuncture in rhinitis and asthma.
The authors of this study concluded, the "findings suggest that acupuncture is effective in the symptomatic treatment of PAR."
Interestingly, Chinese-language studies are positive, here, here, and here.
9/19/07 21:42 JR