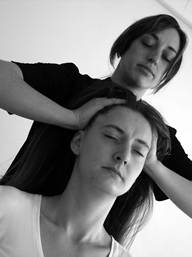 Let's start by stating that neither of the above terms — Indian Head Massage, nor the trademarked term Champissage — results in an article on PubMed.
So, what's it good for?
Narendra Mehta, the author of "Indian Head Massage," presents a concise overview on WorldwideHealth.com. He states, "Indian Head Massage can help to lift you out of the hustle and bustle of everyday stressful living. The techniques used are based on the ancient Ayurvedic Healing System."
Tension headache
Eyestrain
Aches and pains in the neck and shoulder area
Insomnia
Stress and work related symptoms
Also, no studies support claims that Champissage encourages hair growth or treats alopecia.
WikiHow explains and shows the technique.
9/7/07 22:56 JR