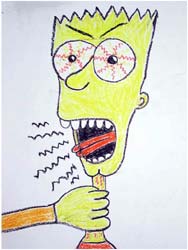 Here's more evidence that the health of your offspring is influenced by what mom eats while pregnant.
This study appears to support a growing body of science that has linked diet to asthma.
During the 2007 American Thoracic Society International Conference, researchers from the University of Aberdeen in Scotland reported on 1,212 children born to women who completed food questionnaires during their pregnancy. When the children were 5 years old, the mothers completed a questionnaire about their child's respiratory symptoms and allergies, as well as a questionnaire about their child's food consumption.
And, the results.
Children of mothers who ate the most apples during pregnancy were less likely to have wheezed or have asthma at the age of 5 years, compared to children of mothers with the lowest apple consumption.
Children of mothers who ate fish once or more a week were less likely to have eczema than children of mothers who never ate fish.
As reported in NutaIngredients.com, "The beneficial effect of apples may come from the flavonoids content," said the researchers, "while fish's protective effect may come from omega-3 fatty acids."
In an earlier study, when non-allergic mothers ate fish at least 2 to 3 times per week, the risk of food sensitizations in their offspring was reduced by more than a third. Links and other relevant study summaries can be found here.
5/24/07 19:10 JR