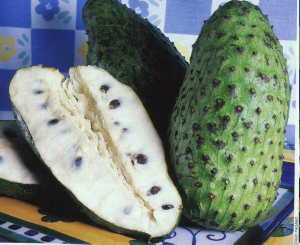 Soursops (aka graviola; Annona muricata) are aromatic fruits with white juicy flesh that are native to tropical North and South America. More than a decade ago researchers from Purdue University isolated 5 active components of graviola and found they were toxic to cancer cells.
What's happened since then?
The 5 active fractions from the leaves.
Annopentocin A 1 was toxic to pancreatic cancer cells.
Annopentocins 2 and 3 were toxic to lung cancer cells.
Trans-annomuricin-D-ones 4 and 5 were toxic for the lung, colon, and pancreatic cells.
Potencies equaled or exceeded the cancer drug doxorubicin (Adriamycin).
Temper your enthusiasm. Although it's available to buy, there have been no studies in humans to support graviola's value to treat cancer. And one report raised questions about its potential to contribute to the development of atypical parkinsonism among people in Guadeloupe.
8/3/07 12:15 JR