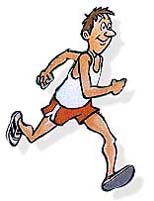 The American College of Sports Medicine and the American Heart Association have updated their physical activity guidelines.
The basic recommendations
Do moderately intense cardio 30 minutes a day, 5 days a week.
Or
Do vigorously intense cardio 20 minutes a day, 3 days a week.
And
Do 8 to 10 strength-training exercises, 8 to 12 repetitions of each exercise twice a week.
Moderate-intensity physical activity means working hard enough to raise your heart rate and break a sweat, yet still being able to carry on a conversation.
Also on the website?
Tips for meeting the guidelines
Starting an exercise program
Improvements from the 1995 recommendation
Frequently asked questions
8/3/07 21:37 JR