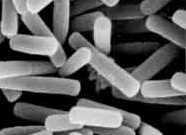 Earlier study results have been inconsistent. In this study, researchers from Nippon Medical School in Tokyo use higher doses to treat active Crohn's disease (CD).
First, the details.
10 adults with active CD but no history of surgery for CD were studied for 13 months.
Their main symptoms were diarrhea and abdominal pain that did not respond to initial treatment of aminosalicylates and prednisolone.
Synbiotic therapy consisted of probiotics (75 billion colony forming units [CFU] daily) and prebiotics (psyllium 9.9 g daily).
Probiotics mainly comprised Bifidobacterium and Lactobacillus.
Patients were free to adjust their intake of probiotics or prebiotics.
By the end of therapy, each patient had taken about 45 billion CFU daily probiotic dose; 6 patients took an additional 8 g daily psyllium dose.
And, the results.
7 had improved symptoms following combined pre/probiotic therapy.
Crohn's Disease Activity Index (CDAI), and the International Organization for the Study of Inflammatory Bowel Disease (IOIBD) score were significantly reduced after therapy.
6 patients had a complete response.
One had a partial response
3 were non-responders.
2 patients were able to discontinue their prednisolone therapy, while 4 decreased their intake.
There were no adverse events.
The bottom line?
This study addresses an important issue in pro/pre/synbiotic research — dosing. The results were positive and support more research in this area.
8/16/07 22:31 JR