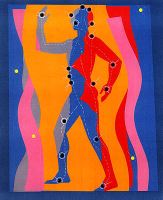 No additional improvement in pain scores was reported in this study.
First, the details.
352 adults with knee osteoarthritis were randomly assigned to 3 treatment groups.
Advice and exercise
Advice and exercise plus true acupuncture
Advice and exercise plus non-penetrating acupuncture
And, the results.
After 6 months of treatment there was no significant difference in pain score among the groups.
Compared with advice and exercise alone there were small, statistically significant improvements in pain intensity and unpleasantness at 2 and 6 weeks for true acupuncture and at all follow-up points for non-penetrating acupuncture.
The bottom line?
The authors conclude, "The addition of acupuncture to a course of advice and exercise for osteoarthritis of the knee delivered by physiotherapists provided no additional improvement in pain scores."
Again, sham acupuncture confounds the evaluation of real acupuncture. More perspective on this issue is here.
8/17/07 10:46 JR