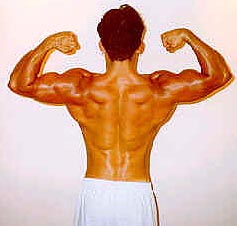 In patients with polymyositis and dermatomyositis — conditions characterized by weakness and swelling of limb and neck muscles — taking creatine supplements enhanced the benefit of exercise.
First, the details.
37 patients with polymyositis or dermatomyositis were randomly assigned to take creatine or placebo for 6 months.
Creatine supplements were taken by mouth (20 gm/day for 8 days, then 3 gm/day).
All patients followed a home exercise program and took immunosuppressive treatment and/or corticosteroids.
The researchers and patients were blinded to their treatment.
And, the results.
There was significant improvement in aggregate functional performance time vs placebo.
That's the time to perform 4 activities of daily living: walk 50 feet, rise from a chair and walk 50 feet, and ascend and descend a flight of stairs.
Treatment showed no significant side effects.
The bottom line?
Creatine is an amino acid in muscle tissue. Body builders use creatine to increase lean muscle mass, improve performance in high intensity exercise, raise energy levels, and speed recovery.
Quoted on Medscape, lead author Dr. Yuen-Li Chung of St. George's University of London concluded, "exercise regimens are a key component of the rehabilitation of patients with idiopathic inflammatory myopathies [disease of muscle or muscle tissue], and oral creatine supplements will enhance the benefit of exercise without incurring substantial risks."
7/22/07 11:53 JR