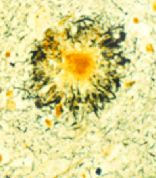 Omega-3 fatty acid supplements might slow the cognitive decline (eg, perception, memory, judgment, and reasoning) in some people with very mild Alzheimer's disease.
The same study showed no effect in people with more advanced cases.
In 204 patients with Alzheimer's disease, Dr. Yvonne Freund-Levi, from the Karolinska Institutet in Stockholm, Sweden compared the effects of supplements containing two omega-3 fatty acids with placebo.
After 6 months, there was no difference in the rate of cognitive decline between the two groups. However, among 32 patients with very mild cognitive impairment at the beginning of the study, those who took the fatty acids experienced less decline than those who took placebo.
Importantly, the results show that omega-3 does not halt the disease. In fact, the effect is probably similar to the graph referenced in an earlier post, where the drugs simply slowed the decline in cognition.
This was not the main objective of the study, and the small number of patients make it important to confirm the findings.
7/22/07 14:46 JR