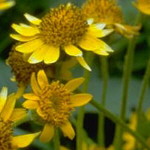 The website HealthWorld has an article on homeopathy that describes arnica (mountain daisy) as "par excellence" for the treatment of shock or trauma caused by any injury. Although the German Commission E Monograph lists herbal doses of arnica as approved for external use resulting from accidents, it questions arnica's value in homeopathy, as discussed in this review.
Based on what we know, the frequent reference to arnica as "par excellence" is an overstatement.
Arnica, is classified by the FDA as an "unsafe herb" for oral use when used at herbal (not homeopathic) doses. In Canada, "products containing arnica cannot be marketed for internal use".
Here are some products — some taken by mouth, others rubbed into the skin.
Hyland's Arthritis Pain Formula: tablets to treat joint pain in minor arthritis
Traumeel: topical and oral products for strains and sprains
Arrowroot Pre-Cosmetic Procedure: tablets to take before cosmetic surgery (also available to take following cosmetic surgery)
Arrowroot Pre-Orthopedic Procedure: tablets to take before orthopedic surgery (also available to take following orthopedic surgery)
Calendula Gel: topical gel for sprains and strains
Roxalia tablets: sore throat remedy
Don't interpret this as a recommendation to use them. The weight of available evidence is insufficient to support the use of arnica. More here.
7/14/06 11:50 JR