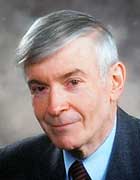 PRNewswire-USNewswire reports that the Appeals Court for the State of Pennsylvania has ruled against Stephen Barrett (photo), a long-time critic of chiropractic and alternative health care. The judge refused to overturn a 2005 decision against Barrett.
Here's the history behind the case.
Dr. Tedd Koren, a chiropractor and publisher of educational material, referred to Mr. Barrett, the host of the website called "Quackbuster," as a "quackpot." He also wrote that Barrett was "de-licensed," and his website was "in trouble."
Barrett sued Koren for defamation and lost the case. He has now lost the appeal.
The bottom line?
The article goes on to claim this as a legal victory for all alternative medicine because it casts doubt on the expertise and objectivity of Mr. Barrett.
Read the article for the details. I think it's a negative for Barrett but not necessarily a positive for CAM.
More background on the Quackbuster is here.
6/15/07 15:18 JR