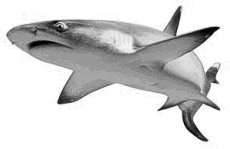 It has been more than a decade since shark cartilage was first promoted as a potential cure for cancer.
Now, a large study presented during the 43rd American Society of Oncology meeting reports that in patients with non?small-cell lung cancer (NSCLC), shark cartilage added to chemotherapy and radiation treatment had no effect on survival.
Here are the details.
384 patients with stage 3 NSCLC were studied.
Patients received either carboplatin (Paraplatin) and paclitaxel (Taxol) or cisplatin (Platinol) and vinorelbine (Navelbine), given as induction chemotherapy and then with radiation.
Patients were randomly assigned to also take placebo or liquid shark-cartilage extract 120 mL (4 ounces) by mouth twice daily.
And, the results.
There was no significant difference in the overall survival between the 2 groups (16 months for placebo vs 14 months for shark cartilage).
The product tested was AE-941 (Neovastat). Research on this shark cartilage formulation has been discontinued.
The bottom line?
"Clearly, these results demonstrate that AE-941 is not an effective therapeutic agent for lung cancer," concluded Dr. Charles Lu, from the University of Texas MD Anderson Cancer Center in Houston. "So, too, these findings have to cast major skepticism on shark-cartilage products that are being sold for profit and have no data to support their efficacy as cancer-fighting agents.
Medscape reports, "This study arose from a US congressional mandate to the National Cancer Institute in the late 1990s, when the growing popularity of shark-cartilage extract for use in cancer was seen as a public health issue." The rationale for its use was as an anti-angiogenesis drug that did not have to be injected, but following administration by mouth would slow or stop the growth of new blood vessels that provide nutrients to the rapidly growing cancer cells.
6/8/07 15:16 JR