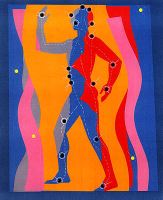 ACE (angiotensin-converting enzyme) inhibitors are a group of drugs used to treat high blood pressure and congestive heart failure. In most cases they are drugs of first choice.
Now, a study by Dr. Frank Flachskampf and colleagues concludes that acupuncture likely represents an attractive option.
First, the details.
160 German adults with high blood pressure received a 6-week course of active or sham acupuncture (22, 30-minute sessions).
78% were already receiving antihypertensive medicine, which remained unchanged.
And, the results.
There was a significant difference in blood pressures compared to the start of the study between the active and sham acupuncture groups.
24-hour blood pressure decreased significantly by 5.4 mmHg and 3.0 mmHg for systolic (first number) and diastolic (second number) pressure, respectively.
Blood pressure returned to pretreatment levels by 6 months after the study.
The bottom line.
Dr. Desiree Lie from the University of California wrote the review on Medscape and concluded, "Active acupuncture delivered by experienced Chinese clinicians to patients with hypertension is associated with significant reduction in both [systolic and diastolic blood pressure]."
OK, but the reduction in blood pressure was modest by comparison. In the HOPE (Heart Outcomes Prevention and Evaluation) study, for example, 24-hour blood pressure was significantly reduced 10/4 mmHg by ramapril (Altace).

If you're interested, more information on current recommendations to treat high blood pressure are found here at from the Joint National Committee on Hypertension.

6/17/07 19:55 JR