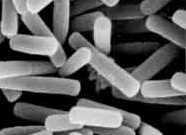 In this study of trauma patients at the University Medical Centre in Ljubljana, Slovenia, supplementing their diet with a synbiotic formula lead to fewer infections.
First, the details.
113 patients with multiple injuries were assigned to one of 4 groups.
Gutamine
Fermentable fiber
Peptide diet
Standard liquid feeding formula with Synbiotic 2000Forte (live lactobacilli and specific bioactive fibers)
And the results.
51 infections, including 38 cases of pneumonia were observed.
Only 5 infections and 4 pneumonias were diagnosed in the group that received the synbiotic supplement — significantly less than the other groups.
There were no differences between groups in the number of days patients required mechanical breathing assistance, time in the intensive care unit, or cases of multiple-organ failure.
An earlier study in Greece reported even better results.
"Synbiotic-treated patients exhibited a significantly reduced rate of infections, SIRS [systemic inflammatory response syndrome; aka, total body collapse], severe sepsis, and mortality.
Days of stay in the ICU and days under mechanical ventilation were also significantly reduced in relation to placebo."
Both studies were sponsored by Medipharm located in Sweden. This should not be interpreted as a criticism of the study, just a statement of disclosure.
5/8/07 19:27 JR