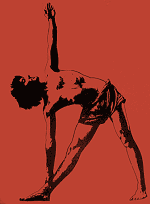 A telephone survey of more than 11,000 people revealed that about 3% had used CAM in the past 12 months for the purpose of losing weight.
Here are the most common CAM therapies.
Yoga (57%)
Meditation (8%)
Acupuncture (8%)
Massage (8%)
Eastern martial arts (6%)
What leads people to think that yoga will help them lose weight?
Well, Amazon.com lists several books/DVDs on the subject. And have you ever seen an obese person in Yoga Journal?
But support from clinical studies is scant.
One study of healthy adults reported a significant reduction in basal metabolic rate (BMR) among yogis. It's not clear to me how lower BMR leads to weight loss.
In a 10-year study of more than 15,000 adults, regular yoga practice was associated with attenuated weight gain, particularly among overweight individuals. Researchers from the Fred Hutchinson Cancer Research Center in Seattle, Washington concluded, "Although causal inference from this observational study is not possible, results are consistent with the hypothesis that regular yoga practice can benefit individuals who wish to maintain or lose weight."
Perhaps Dr. Baxter Bell, who teaches back-care yoga classes in Northern California and lectures to health care professionals around the country, has the best perspective. He approaches the issue of yoga and weight loss from several levels.
Physical benefits include loosening of muscles tightened by inactivity, tension, and stress.
Psychological benefits help counter the harsh self-judgment that often accompanies obesity.
Physiological benefits through styles of yoga such as Vinyasa-style classes where movement and breath link poses together and can build heat, which potentially results in greater calorie burn.
If you're considering yoga as part of your weight loss program, it's worth the time to read Dr. Bell's article.
5/3/07 20:33 JR