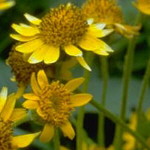 Rubbing on arnica provides pain relief in people with osteoarthritis that affects their hands.
First the details.
204 patients were recruited from 20 clinics.
Randomly assigned to ibuprofen gel (Optifen Gel) or arnica gel (A. Vogel Arnica Gel).
They gently rubbed in a 4 cm (1.5 inch) strip over the affected joints 3 times a day for 3 weeks.
And the results.
Pain intensity and hand function improved in both treatment groups.
24% reduction in pain with ibuprofen
27% reduction with arnica
Grip strength, ability to use tools, and tie a knot improved similarly in both groups.
6% of the ibuprofen group and 5% of the arnica group report treatment-related adverse events.
In an article in NewHope.com, Dr. Melzer of the University of Zurich in Switzerland noted that earlier studies where arnica gel was used topically were also positive.
Also, "The improvements seen in our study were clinically relevant. This topical application of arnica gel can be regarded as a viable alternative to ibuprofen gel when treating osteoarthritis of the hand joints."
5/6/07 20:09 JR