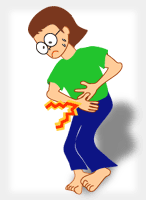 Novartis Pharmaceuticals will stop selling Zelnorm (tegaserod), which was used to treat irritable bowel syndrome (IBS). The decision was made because of an increased risk for serious cardiovascular events.
Perhaps IBS sufferers should start at the beginning.
In an earlier post, dietary recommendations for people with IBD were listed. They came from Dr. Richard MacDermott who is head of the division of gastroenterology at Albany Medical College in New York.
A more organized approach to food elimination and diet was conducted by researchers at the University of Kansas Medical Center.
Here's what they did.
20 patients with IBS who had failed standard medical therapies were re-evaluated for allergies to food and mold, stool content, breath-hydrogen tests, and quality-of-life.
Based on the results their diets were changed and probiotics were added.
They were re-evaluated at 6 months.
And the results.
Baseline abnormalities were identified in the IgG food and mold studies and in the intestinal bacterial environment in all patients.
Food elimination and rotation diet lead to significant improvement in stool frequency, pain, and quality of life.
There was a trend to improvement in beneficial intestinal bacteria but no change in abnormal bacteria.
One year later the patients continued adherence to the food rotation diet, with minimal symptoms.
Continued use of probiotics was considered less helpful.
The bottom line?
The researchers concluded that "identifying and appropriately addressing food sensitivity in IBS patients not previously responding to standard therapy results in a sustained clinical response and impacts on overall well being and quality of life in this challenging entity."
4/2/07 10:52 JR