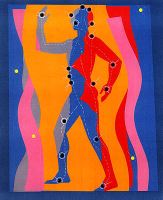 Updated guidelines for managing post-operative nausea and vomiting announced during the annual meeting of the American Society of Anesthesiologists include using acupuncture.
Here's some supporting data.
Researchers enrolled 75 women scheduled for major breast surgery (breast augmentation, breast reduction, or mastectomy) and treated them with either acupuncture, the antiemetic ondansetron (Zofran), or neither treatment. About 70% of women who undergo major breast surgery requiring general anesthesia suffer from this complication.
Two hours after surgery, 77% of the patients receiving acupuncture had no nausea or vomiting and required no antiemetic drug to reduce nausea and vomiting. This compared to 64% for those who received ondansetron and 42% who received nothing. At 24 hours, the rates were 73%, 52%, and 38%, respectively.
Both acupuncture and ondansetron were significantly more effective than no treatment.
10/24/06 21:54 JR