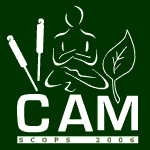 Specifically, we're talking about women with lung cancer and people with diabetes.
First, women with lung cancer.
People living with lung cancer have a disproportionate number of symptoms compared to other cancers. Presumably this is because their disease is more advanced by the time it's diagnosed. An article in Cancer Nursing reports CAM options that women with lung cancer turn to for relief.
Among 189 women with lung cancer, 44% used CAM.
Prayer 35%
Meditation 12%
Tea 12%
Herbs 9%
Massage 7%
Acupuncture 3%
CAM use was greatest for difficulty breathing and pain (55% each); with prayer the most commonly used CAM for all symptoms.
Younger women, those who experienced more symptoms, and those living on the west coast or south (vs northeast) were more likely to use CAM.
Next, diabetes.
The 2002 National Health Interview Survey included more than 2000 adults with and more than 28,000 adults without diabetes. "People with diabetes were more likely to use prayer, but less likely to use herbs, yoga, or vitamins compared to persons without diabetes."
The bottom line?
The predominant use of prayer among women with lung cancer and people with diabetes and the more frequent use of CAM in the west and south vs northeast is similar to what is reported in the general population here and here.
3/16/07 23:28 JR