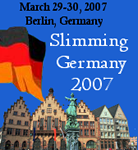 Two upcoming conferences in Germany and France will focus on ingredients, products, and trends in fighting obesity.
Slimming Germany has graciously permitted The C.A.M. Report to blog their meeting.
Slimming Germany, March 29-30, 2007 in Berlin
Paris Anti-Obesity Therapies 2007, June 14-15
The meeting in Germany is emphasizing the importance of clinical trials.
2/22/07 10:38 JR