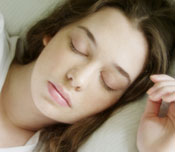 The FDA is requiring stronger warning labels on 13 sedative-hypnotic sleep aids. In response, the makers of Ambien, Halcion, Lunesta, and Sonata are sending letters to healthcare providers this week discussing the new warnings. They will also develop educational handouts for patients who take these medicine.
So, what are the non-drug options for people with insomnia?
I've linked to her before, but it's worth another look at nurse Heathereen Cochran's detailed review of non-drug sleep aid options.
She covers lots of information, including these options.
Cognitive behavioral therapy
Stimulus control therapy
Progressive muscle relaxation
Paradoxical intention
Sleep hygiene education
For more information, there are lots of links here.
3/15/07 10:04 JR