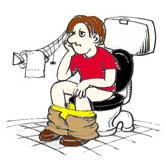 This is the second study in 2 months to report a positive effect with biofeedback to treat pelvic floor dyssynergia-type constipation.
There are 3 types of constipation. Dyssynergia-type occurs when a person losses the ability to coordinate contractions of the pelvic floor muscles and to relax the anal sphincter during defecation.
In this study, 77 people with chronic constipation and dyssynergic defecation were assigned to biofeedback, sham feedback therapy, or standard therapy (diet, exercise, and laxatives).
And the results.
People in the biofeedback group were more likely to correct dyssynergia and improve defecation more than the other groups.
Colonic transit improved after biofeedback or standard, but not after sham.
In the biofeedback group, the number of complete spontaneous bowel movements increased, and was higher than in other groups.
The use of digital maneuvers decreased.
Global bowel satisfaction was higher in the biofeedback than sham group.
The researchers concluded, "biofeedback is the preferred treatment for constipated patients with dyssynergia.
A summary of the earlier study is here.
Illustration: Children, Youth, and Women Health Center
3/21/07 23:43 JR