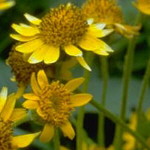 Arnica (Arnica montana) is used in herbal medicine for relief of bruises, stiffness, and muscle soreness.
Here's a study that looked at the potential for homeopathic arnica to reduce swelling and pain following 3 different operations in patients who required knee surgery.
The details.
Prior to surgery, 300 patients were given a homeopathic dilution of arnica or placebo.
300 patients received one of 3 operations (arthroscopy, artificial knee joint implantation, and cruciate ligament reconstruction).
More arnica (or placebo) was given after surgery.
The researchers used knee circumference as the measure of arnica's effectiveness.
When measured 2 days following surgery, significantly less swelling was seen only in the 57 patients who had the cruciate ligament reconstruction.
It's not clear to me why it worked in one group but not in the other two.
But we'll accept it for what it is.
2/8/07 23:03 JR