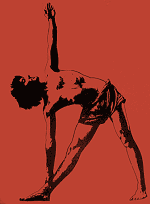 Chronic pancreatitis is most often caused by alcoholism and alcohol abuse. The ability to get these patients to commit and stick with yoga classes twice weekly for 12 weeks is a major accomplishment. Improved quality of life is a bonus.
Here are the results from two studies.
Thirty patients were randomized to the yoga group and 30 to the control group.
After 12 weeks there was a significant improvement in overall quality of life (as measured by the SF-36), symptoms of stress, mood changes, alcohol dependence, and appetite
The yoga group expressed a desire to continue with the program. There were no changes in the control group.
In an earlier article published by the same author, 30 patients with chronic pancreatitis who participated in yoga classes experienced decreasing self-perceptions of pain and anxiety and reduced use of pain medicine. They also had significant improvement in their diet and gained weight compared to before yoga.
1/20/07 18:56 JR