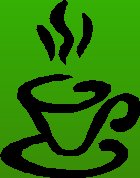 The February issue of The Journal of Pain will publish an article about the response to caffeine in 9 women following exercise.
It's being picked up by lots of news websites, but until the article appears, Medical News Today has the best review.
Briefly, researchers report that moderate doses of caffeine — roughly equivalent to two cups of coffee — cut post-workout muscle pain by up to 48%.
"One and two days after an exercise session that caused moderate muscle soreness, the volunteers took either caffeine or a placebo and performed two different quadriceps (thigh) exercises…Those that consumed caffeine one-hour before the maximum force test had a 48% reduction in pain compared to the placebo group, while those that took caffeine before the sub-maximal test reported a 26″ reduction in pain."
The bottom line?
Using caffeine in this way might help you ease into an exercise program.
All the usual caveats apply.
No proof that these results apply to regular caffeine users
Very small number of people studied
Studied only in women, not men (What's that about?!)
All together now?
More studies in larger populations are needed before recommendations can be made for the general public.
1/12/07 21:25 JR