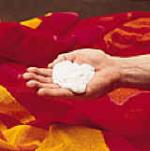 It's estimated that regular use of sun protective factor (SPF) 15 during the first 18 years of life would reduce the lifetime incidence of nonmelanoma skin cancers by 78%.
It turns out that sunscreen protects against squamous cell carcinomas (SCCs) but is marginal at best against basal cell carcinomas (BCCs) — two cancers that affect different layers in the skin.
The study, published in 1999, reported that daily sunscreen (SPF 16) use over 4.5-years produced a 35% reduction in the incidence of SCCs but had no effect on the incidence of BCCs.
The reason for the difference in this large group of more than 1600 people is not known.
When the researchers continued to follow the participants after the study, they found that those who used sunscreen during the study tended to continue to use it. And they continued to benefit from a lasting effect on SCCs. Again, there was no clear-cut effect on preventing BCCs.
Even if the protection against BCCs is marginal, protection against SCCc with sunscreen is real. It should be used properly along with other protective measures such as proper clothing, wearing hats, and just limiting direct exposure to the sun.
1/24/07 20:56 JR