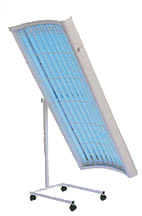 The American Academy of Dermatology and the American Medical Association have called for a ban on the sale and use of tanning equipment for nonmedical purposes. And the FDA and Centers for Disease Control encourage people to avoid the use of tanning beds and sun lamps.
The tanning industry say that dermatologists have a "political agenda," and that indoor tanning is actually good for you.
What's the truth?
Radiation doesn't have to cause a sunburn in order to cause cancer.
A "base tan" or a "pre-vacation tan" does not protect you from planned sun exposure.
Getting vitamin D from indoor tanning is good, but indoor tanning provides more radiation than what's needed to get enough vitamin D.
The pros and cons are debated on WebMD.
12/4/06 19:37 JR