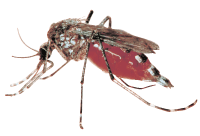 In the treatment of severe malaria, injecting artesunate directly into a vein results in more rapid action than quinine given the same way. It's safer and simpler to administer. And a clinical study also shows it reduces the risk of death from this disease.
Details here.
Last year, more than 1400 patients with severe falciparum malaria living in Bangladesh, India, Indonesia, and Myanmar were treated with either artesunate or quinine (the gold standard for therapy).
For those taking artesunate the risk of dying from malaria was reduced 35% compared to those getting quinine.
Falciparum malaria is the most dangerous form of malaria. It has the highest rates of complications and death. It accounts for 80% of all human malarial infections and 90% of the deaths. It is most prevalent in sub-Saharan Africa.
Background on artesunate is available here.
12/4/06 18:16 JR