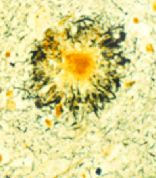 The results of the Advanced Cognitive Training for Independent and Vital Elderly (ACTIVE) study were summarized here recently.
Now, Dr. Sally Shumaker, professor of public health sciences and associate dean for research at Wake Forest University Medical School, writes about the study's implications in the Journal of the American Medical Association.
She believes, "The ACTIVE study is an important step toward demonstrating the feasibility of enrolling older adults in a long-term study of a cognitive training [eg, perception, memory, judgment, and reasoning] intervention."
Matching cognitive training with an older person's risk profile is an intriguing possibility. For example, training that focuses on memory may be best for those at risk for Alzheimer's disease.
"Once they are standardized and developed for mass markets, cognitive training programs might be available to seniors through churches, schools, and senior centers," says Dr. Shumaker.
"Importantly, cognitive training programs may give individuals a greater sense of control over the disturbing prospect of cognitive decline and have a beneficial effect on their quality of life."
Let's hope so, because what's currently available to slow dementia and manage Alzheimer's disease is of minimal value.
12/23/06 16:34 JR