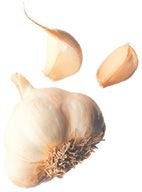 ConsumerLab.com reports that among 16 garlic-containing products assayed, 8 failed the test.
One product lacked any of a key garlic compound. "Another had less than 1% of the expected amount of this compound. Other products claiming 'high potency' were actually low potency. Two products were contaminated with lead."
I don't have a subscription to this site but it might be worth it if you take garlic supplements. The free site lists the brands tested. In the interest of disclosure, I do not have any connection with ConsumerLab.
6/27/06 22:58 JR