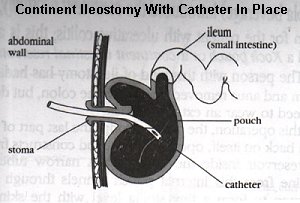 Pouchitis? In people who require an ileostomy, surgeons can use the intestines to create a "pouch" (as shown in the drawing) to store stool and decrease the frequency of passing fecal material through the opening. The pouch eliminates the need for an external bag to collect the feces. The Mayo Clinic has a nice review.
What?s the role of probiotics?
The probiotic preparation called VSL#3 prevents the onset of pouchitis in patients with newly formed surgical pouches
In patients who have recurrent pouchitis, VSL#3 prevents its return following antibiotic therapy
Treatment guidelines from the US and the UK include VSL#3 as a therapeutic option for the prevention of pouchitis relapse in patients with chronic pouchitis
In general, patients can take VSL#3 with a low risk of side effects
What is VSL#3?
It's a preparation of eight freeze-dried bacteria that are normally found in the human gastrointestinal tract, including several types of lactobacilli and bifidobacteria, and one type of streptococcus.
Illustration: Shaz's Ostomy Pages
11/1/06 09:26 JR