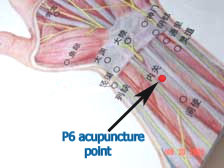 An earlier entry noted that updated guidelines for managing nausea and vomiting following surgery include acupuncture.
Five minutes of manual or electrical stimulation at the P6 acupuncture point (as shown in the illustration) is the primary point of treatment. Some supportive studies are listed here.
What issues remain to be address in clinical trials?

The value of antiemetic drugs in patients treated with acupuncture
Options for patients with conditions that do not respond
What is the effect of adding acupuncture points to P6?
How can treatment be tailored to the patient?s specific needs based on a Traditional Chinese Medicine diagnosis?
Identify predictors of response in different conditions in order to optimize acupuncture point therapy
Let me add one more.
Make acupuncture available to more nauseated people.
Illustration: AnaesthesiaUK
10/31/06 21:49 JR